The trophy costume is a costume in StrikeForce Kitty: Last Stand, based on the cat as appeared in the "You Win!" screen of the game.
StrikeForce Kitty: Last Stand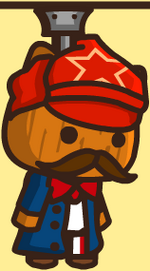 This costume can be obtained by winning the game. Once you return to the menu from the "You Win!" screen, it will have its own "New Clothes" event. It can then be found on page 9 of the

"Melee" category, as the last hanger beside Akuma.
The cat wearing the costume gives a 30% chance, after attacking an enemy, to create an aura that increases the speed of "Ranged" projectiles (of other cats wearing "Ranged" costumes and castle defenders) and gives a boost to the Commander's ability.
Note: If the second-to-last and last hangers are a different costume sets instead of Akuma and this costume, then it is a bug.
StrikeForce Kitty League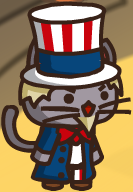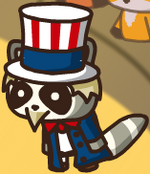 In StrikeForce Kitty League, the costume returns, with a noticeable difference: the hat and hairstyle are different from Last Stand, thereby referencing Uncle Sam.
This costume appears by chance in the main menu of worn by either the cat or the raccoon who are fighting in an "arena". However, this costume cannot be obtained in gameplay.
See also