Tony Tony Chopper is a character from the One Piece manga and anime series. He has a notable appearance in the StrikeForce Kitty games.
StrikeForce Kitty: Last Stand
This cosplay can be obtained by defeating a random raccoon wearing the same cosplay. If successful, it can be found on one of the hangers of the
"Melee" category.
StrikeForce Kitty League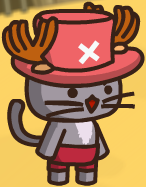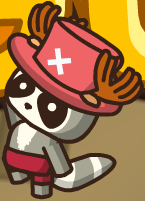 Chopper, like many cosplay sets in previous games, appears by chance in the main menu of StrikeForce Kitty League, worn by either the cat or the raccoon who are fighting in an "arena". However, this cosplay is unobtainable in gameplay.
See also
Ad blocker interference detected!
Wikia is a free-to-use site that makes money from advertising. We have a modified experience for viewers using ad blockers

Wikia is not accessible if you've made further modifications. Remove the custom ad blocker rule(s) and the page will load as expected.