"Sailor" is a character costume in the StrikeForce Kitty series, based on Popeye from the comics, films, and cartoons of the same name.
StrikeForce Kitty 2
The fox wearing the "Sailor" costume can be found on level four with "Frederick" and "Sturdy" after your kittens break through the barrier. The set can be obtained by defeating the fox multiple times or using lottery tickets.
The set consists of two pieces: cap and pipe, and clothing. "Sailor" does

melee damage, and its ability is that when collecting fishes, a fish heals 2 health points to all your kittens (including self).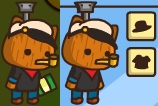 Note: There is another piece found in the level preview, a spinach can used as a weapon, but does not appear in the level or in the costumes list. This might be a bug.
| Part | Effect | Image |
| --- | --- | --- |
| Head | 5 speed, 5 health | |
| Torso | 7 health, 6 strength | |
| Weapon | none | |
StrikeForce Kitty: Last Stand

"Sailor" or Popeye with the spinach can is one of the costumes obtainable by defeating raccoons in StrikeForce Kitty: Last Stand, look in the pages categorized in "Melee".
See also
Insert any wiki article (from any Wikia) with this character here. Thanks!
Insert any wiki article (outside Wikia) with this character here. Thanks!
Ad blocker interference detected!
Wikia is a free-to-use site that makes money from advertising. We have a modified experience for viewers using ad blockers

Wikia is not accessible if you've made further modifications. Remove the custom ad blocker rule(s) and the page will load as expected.