"Notch" is an artifact costume in the StrikeForce Kitty series, based on the Player character in full Diamond Armor, and wielding the Diamond Pickaxe.
Markus "Notch" Persson is the creator of Minecraft before leaving Mojang in 2014.
StrikeForce Kitty 2
"artifact 8" can be equipped to a kitten that wears the "Pitman" costume. "Notch" does

melee damage, and has the same ability as its predecessor.
"Notch" adds 20 strength, 13 health, and 21 speed to that kitten, for a total of 30 strength, 28 health, and 28 speed, from "Pitman".
StrikeForce Kitty: Last Stand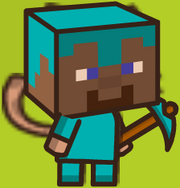 "Notch" is a costume that can be obtained from defeated raccoons in StrikeForce Kitty: Last Stand, look on pages in the "Melee" category.
See also