"Ofcourse" is a cosplay set in the StrikeForce Kitty series, based on M. Bison from the Street Fighter video games.
The costume name comes from a quote from the Street Fighter film.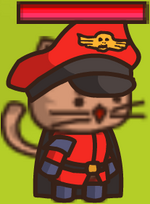 The unnamed M. Bison cosplay can be obtained by defeating a random raccoon wearing the same cosplay. Once successfully obtained, it can be found on one of the hangers of the

"Melee" category.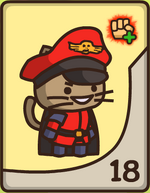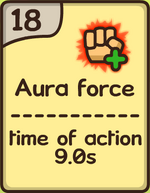 The still unnamed M. Bison cosplay in StrikeForce Kitty League can be obtained by defeating FSV a few times in the Trout Division until the costume is acquired or by buying it by chance at the store for 800 fishes.
Wearing the cosplay gives the cat the ability to create an aura; if successfully cast, all kittens will have a temporary 50% damage boost for 9 seconds.
The raccoon cosplaying as "Ofcourse" can be found on Secret I as a mini-boss at the end of the level. It has 3140 health and deals a fixed 174 damage, both melee and ranged. Defeating the raccoon once allows you to take its cosplay and adds to the passive TO SEE OBJECTS ability and its active cat skill.
The set contains cap, and uniform and cape. The cat wearing "Ofcourse" does only melee damage (?).
| Part | Effect | Image |
| --- | --- | --- |
| Head | 15 speed, 150 health | |
| Torso | 225 health, 25 strength | |
| Weapon | none | |
See also