M. Bison is a character from the Street Fighter franchise. He has a notable appearance in the StrikeForce Kitty series.
StrikeForce Kitty: Last Stand
M. Bison appears as a cosplay in StrikeForce Kitty: Last Stand. It can be obtained by defeating a random raccoon wearing the same cosplay. Once successfully obtained, it can be found on one of the hangers of the
"Melee" category.
StrikeForce Kitty League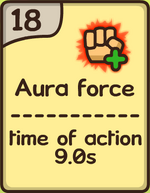 The M. Bison cosplay in StrikeForce Kitty League can be obtained by defeating FSV a few times in the Trout Division until the costume is acquired or by buying it by chance at the store for 800 fishes.
Wearing the cosplay gives the cat the ability to create an aura; if successfully cast, all kittens will have a temporary 50% damage boost for 9 seconds.
See also
Ad blocker interference detected!
Wikia is a free-to-use site that makes money from advertising. We have a modified experience for viewers using ad blockers

Wikia is not accessible if you've made further modifications. Remove the custom ad blocker rule(s) and the page will load as expected.