The Kitty team (team name varies) is a league team in StrikeForce Kitty League. The team consists of four cats/kittens.
They are managed by the player at the beginning of the game. Their goal is to win the Super Cup, but to do that, they have to defeat the Dark Force Raccoons, which defeated StrikeForce Kitty before the Kitty team signed up for the League.
The player can decide what to do with the team, such as training them and equipping them with cosplay.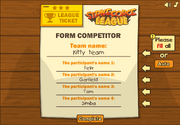 "Kitty team" is the default name of the team if you used the "Auto" button when signing up for the League at the beginning of the Game, but the player can decide the name of the team and the names of the cats in the same interface. The default names of the four cats in the team are "Felix", "Garfield", "Tom", and "Simba", referencing fictional characters who are felines.
Ad blocker interference detected!
Wikia is a free-to-use site that makes money from advertising. We have a modified experience for viewers using ad blockers

Wikia is not accessible if you've made further modifications. Remove the custom ad blocker rule(s) and the page will load as expected.