"Italian" is a character costume in the StrikeForce Kitty series, based on Altaïr from the Assassins's Creed video games.
The costume name comes from the nationality of Ezio, another character from the games, who discovered this character costume.
StrikeForce Kitty 2
The fox wearing the "Italian" costume can be found on level 3 with "Space hunter" near the start of the level. The costume set can be obtained by defeating the fox multiple times or using lottery tickets.
The set has three pieces and consists of: hood, robes, and the Hidden Blade. "Italian" does

melee damage, and its ability is that all kittens (including self) have a passive speed boost of 2 points.
| Part | Effect | Image |
| --- | --- | --- |
| Head | 5 speed, 3 health | |
| Torso | 4 health, 3 strength | |
| Weapon | 4 strength, 3 speed | |
StrikeForce Kitty: Last Stand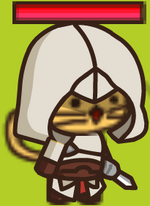 "Italian" is a costume in StrikeForce Kitty: Last Stand. This costume can be obtained by defeating a raccoon wearing the same costume. If successfully obtained, it can be found on one of the pages in the

"Melee" category.
See also