"'Foundress" is a character costume in the StrikeForce Kitty series, based on Haruhi Suzumiya from the light novel and anime series of the same name.
The name comes from "founder" and the feminitive suffix "-ess", the character is the founder of the SOS Brigade.
StrikeForce Kitty 2
The fox cosplaying as "Foundress" can be found on level 3 with "Berry-chan" near the GOLD LOTTERY TICKET chest. The set can be obtained by defeating the fox multiple times or using lottery tickets.
The set has three pieces and consists of: ribbon, school uniform, and paper with writing. "Foundress" does
ranged damage and its ability is removing obstacles with an eye icon from the path.
| Part | Effect | Image |
| --- | --- | --- |
| Head | 5 speed, 5 health | |
| Torso | 5 health, 4 strength | |
| Weapon | 5 strength, 4 speed | |
StrikeForce Kitty: Last Stand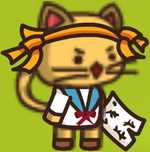 "Foundress" is a cosplay in StrikeForce Kitty: Last Stand. Once your cats defeat a raccoon wearing this cosplay and successfully acquired it, it can be found somewhere on the pages of the

"Ranged" category.
See also
Ad blocker interference detected!
Wikia is a free-to-use site that makes money from advertising. We have a modified experience for viewers using ad blockers

Wikia is not accessible if you've made further modifications. Remove the custom ad blocker rule(s) and the page will load as expected.