"Clone" is a character costume in the StrikeForce Kitty series, based on an Imperial stormtrooper from the Star Wars franchise.
Stormtroopers are evolutions of clone troopers in the franchise.
StrikeForce Kitty 2
The fox wearing the "Clone" costume can be found on level 20 with "Darth father" near the end of the level. The parts can be obtained by defeating the fox multiple times or using lottery tickets.
The set has three pieces and consists of: helmet, armor, and blaster rife. "Clone" does

ranged damage, and its ability is a passive damage boost of 8 points to all kittens (including self).
| Part | Effect | Image |
| --- | --- | --- |
| Head | 13 speed, 12 health | |
| Torso | 18 health, 8 strength | |
| Weapon | 1 strength, 8 speed | |
Note: Your kittens may be fighting against "Flywalker" (a short distance near "Clone") as well if your kittens ran forward, if you haven't defeated the foxes wearing it and the "Darth father" costume already.
StrikeForce Kitty: Last Stand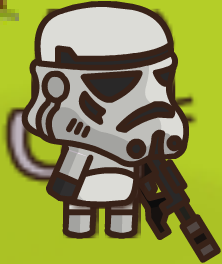 "Clone" is a costume that can be obtained from defeated raccoons in StrikeForce Kitty: Last Stand, look on pages in the "Ranged" category.
See also