"C.J" is a character costume in the StrikeForce Kitty series, based on Casey Jones from the Teenage Mutant Ninja Turtles franchise.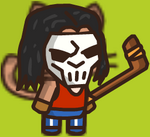 This unnamed costume can be obtained by defeating a random raccoon wearing the same costume. If successful, it can be found on one of the hangers of the

"Melee" category.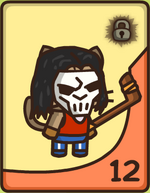 The still-unnamed costume of Casey in can be obtained by defeating Raccoonami a few times in the Anchovy Division until it is acquired or by buying it by chance at the store for 100 fishes.
Wearing the costume gives the cat the ability to cast a curse to opponents, if successful, prevents them from using their costume abilities for 6.3 seconds.
The raccoon wearing "C.J" can be found on Secret F with "Nonag" on the first tower. Completing the set adds points to the passive TO HIDE OBJECTS ability and its active cat skill.
The set contains hair and mask, clothing and gloves, and hockey stick. The cosplayer wearing "C.J" does melee damage.
| Part | Effect | Image |
| --- | --- | --- |
| Head | 8 speed, 19 health | |
| Torso | 28 health, 4 strength | |
| Weapon | 6 strength, 5 speed | |
See also