"Black death" is a character costume in the StrikeForce Kitty series, based on Ryuk from the Death Note manga and anime series.
StrikeForce Kitty 2
The fox cosplaying as "Black death" can be found on level 13 with "Executioner" on the way to the LOTTERY TICKET chest. The set can be obtained by defeating the fox multiple times or using lottery tickets.
The set has three pieces and consists of: hair, body and wings, and apple. "Black death" does

ranged damage, and its ability is dealing double the damage at a 12% chance.
| Part | Effect | Image |
| --- | --- | --- |
| Head | 11 speed, 11 health | |
| Torso | 16 health, 5 strength | |
| Weapon | 7 strength, 6 speed | |
StrikeForce Kitty: Last Stand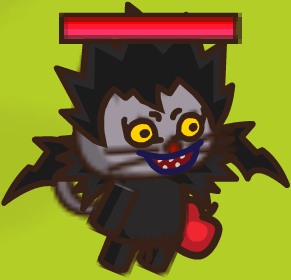 "Black death" is a cosplay that can be obtained from defeated raccoons in StrikeForce Kitty: Last Stand, look on pages in the "Ranged" category.
See also